Double Helix
Wood
96 x 14 x 14"
The rate of the rotation was derived by accommodating the anomalies (warts) on the log's surface.
2008
Harvest
Stained wood, resin and India ink
14 x 14 x 6"
2008
The moon is the wall seen through a hole at the back of a resin filled bowl. The moon's craters were created by repeatedly poking the resin from the backside and rubbing ink into the pours.
Mel's Hole
Enamel paint on wood, acrylic on foam insulation
14" sphere
2008
Vigil
Wood, silver plated Ritz Carlton ashtray stand, cell vinyl, deer antler, motor
40 x 18 x 20"
2008
Wood, silver plated Ritz Carlton ashtray stand, acrylic, tree sap, deer antler and motor
The antler tip on the platform rotates slowly in a pirouette reminiscent of a jewelry box ballerina. The medicine wheel platform is oriented to the cardinal directions.
Proprietary Dream Mandala
Used casino playing cards from the Silverado in Deadwood, SD, on aluminum
36" dia x 1"
Based on a dream where I saw 'this' artwork on a collector's wall and obsessed for the remainder of the dream about plagiarizing the idea.
The geometry of the cards is numerically resolved in every direction (concentrically and radially) and completes a full cycle through the four suits, requiring exactly 169 cards, beginning and ending with the Ace of Spades. Upon completion of the cycle, the cards fold back on themselves in a perpetual return.
2008

Resurrection of the Green Man
Los Angeles River algae and resin on wood base
14 x 20 x 20"
Based on a dream in which I was wandering in the desert and came upon a common man being beaten by two men in black suits and dark sunglasses. I came to his aid and in the intervening struggle one of the assailants turned a gun on me. I wrestled with the man until I was able to turn the weapon on him and pulled the trigger. The gun produced only water, but it caused the man to melt before my eyes, so I turned on the other brut and dispatched him in like fashion.
When I turned my attention to the common man I found him lying in the desert sand, apparently dead. I got close and could hear a faint rustling from somewhere deep in his chest and he proceeded to sprout vegetation from all of his orifices. As I backed away the vegetation surged across the landscape and transformed the desert into a lush Eden.
Conceived prior to the 2008 election, my museum exhibit 'Resurrection of the Green Man' opened the day after Obama's inauguration.
2008

Ring Nebula Sri Yantra
Inlaid playing cards (Kings and Queens) and acrylic on paper
18 x 24"
2008
Solicitation
Manzanita burl, deer antler, wood and fabric
6 x 9 x 6"
These claws were inspired by a chance encounter with a Yoruba Priest and his four acolytes, and their solicitation to create wooden ceremonial bowls, presumably for ritual sacrifice.
Shortly after this experience, in a friend's driveway I had a profound encounter an urban hawk holding a dead pigeon, refusing me passage. The hawk later reappeared circling high over my studio with its prey in tow, surrounded by four companion hawks.

The claws were created to fit my index finger and thumb, rendering my hand useless for anything but predation.
2008
Vigil
Site specific for 'Mogility', Side Street Projects, Pasadena
Mineral oil and vegetable detritus in a hole in the ground, metal bleachers
2008
Faerie Star
Steam bent and stained ash
36 x 36 x 1"
2007
Piet
Stained wood and pigmented resin
32 x 32 x 1 ½ "
2007
#390 (Cloud)
Bleached and stained wood
12 x 17 x 14"
2005
#391 (Cloud)
Stained wood
11 x 10 x 9"
2005
#392 (6.9.72)
Stained wood
6 x 13 x 16"
2005
#394 (Cloud)
Acrylic on wood
8 x 11 x 9"
2005
#395 (Cloud)
Stained wood
9 x 32 x 9"
2005
Untitled #374
Stained wood
10 ½ x 8 ½ x 5"
2004
# 377 (Toroid)
Bleached wood
12 x 24 x 13"
2004
#378 (Dark Toroid)
Stained wood
12 x 14 x 13"
2004
#384 (Death of Orion)
Stained wood
12 x 12 x 76"
2004
#385 (.001 Sec)
Beached wood
15 x 12 x 12"
2004
Inspired by images created by Harold Edgerton for the Dept of Defense in the 1950's of nuclear tests within the first millisecond of detonation.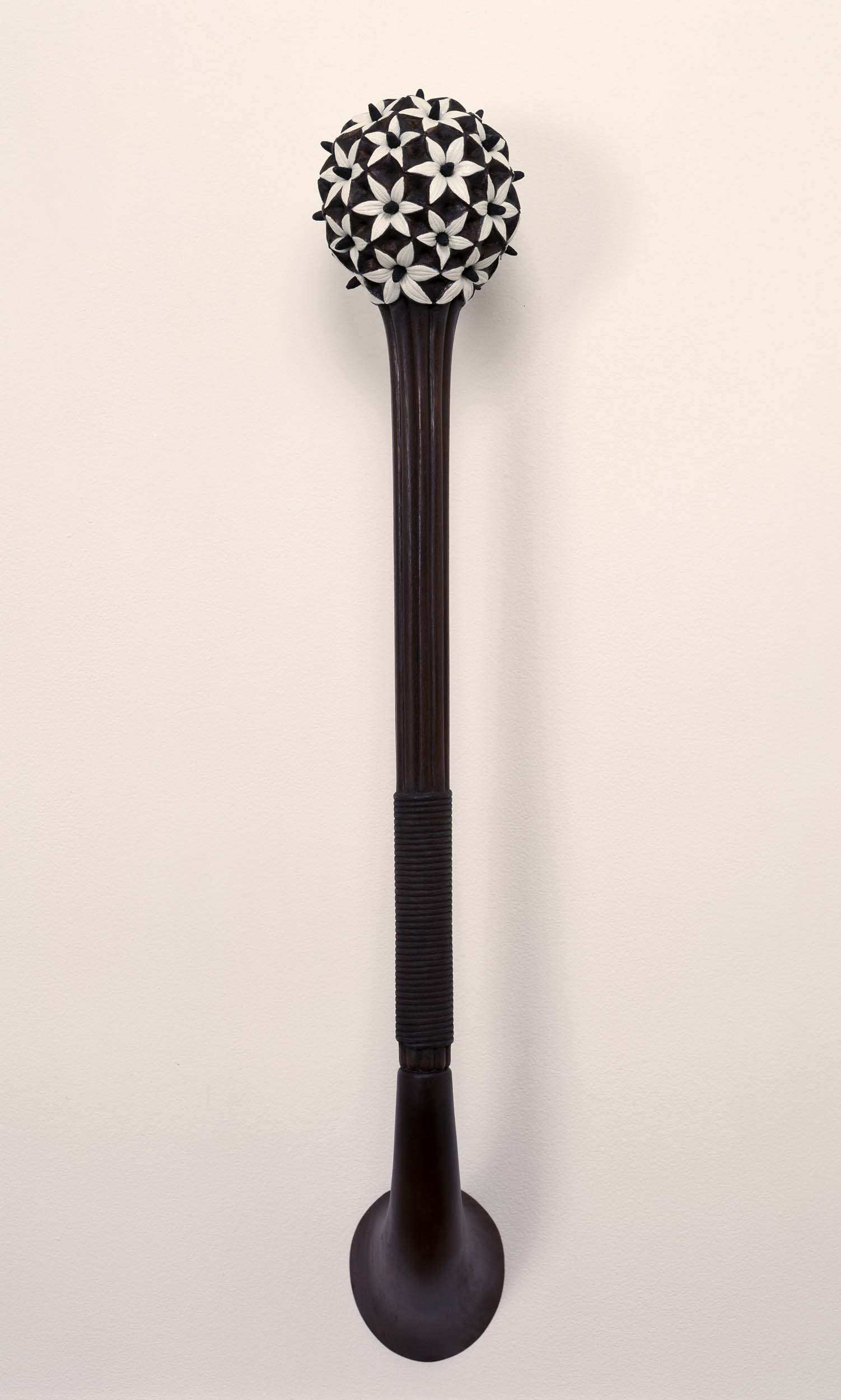 #360 (Peacemaker Club)
Wood and acrylic
36 x 5 ½ x 8"
2003
#361 (Pieah)
Stained wood
10 x 7 ½ x 4"
2003
#362 (Pieah)
Wood and acrylic
8 ½ x 6 ½ x 5 ½ "
2003
#363 (Club)
Stained wood and acrylic
37 x 4 ½ x 8"
2003
#364 (Club)
Stained wood and acrylic
36 x 4 ½ x 7"
2003
#366 (Club)
Stained wood
30 ½ x 5 x 10 ½ "
2003
#367 (Virus)
Wood and acrylic
34 x 5 x 7 ½ "
Club head modeled after HIV virus
2003
#368 (Gift)
Stained wood, cement, plaster
30 x 7 x 7 ½ "
2003
#365 (.001 Sec)
Stained wood and acrylic
36 ½ x 6 x 8"
2003
Untitled #345
Wood, string and pigmented plaster
10 x 7 ½ x 4"
2002
#356 (Pieah)
Wood and enamel paint
8 ½ x 6 x 4"
2002
Untitled #352
Acrylic on wood
22 x 18 x 4 ½ "
2002
#355 (Goddess Club)
Wood and enamel paint
35 x 5 x 7"
2002
#357
Stained wood
8 ½ x 6 ½ x 6 ½ "
2002
#358 (Pieah)
Stained wood and enamel paint
9 x 7 x 4"
2002
#359
Acrylic on wood
20 x 16 x 4 ½ "
2002
#332 (Sphered Cube)
Wood, nylon stocking, string and resin
5 x 5 x 5"
2001
Untitled #333
Wood, nylon stocking, string and resin
5 x 5 x 5"
2001
Untitled #334
Wood, nylon stocking, string and resin
5 x 5 x 5"
2001
Untitled #300 (Last Ring)
Stained wood and pigmented resin
8" dia x 3 ½ "
2000
Untitled #320
Charred wood
120" x 2" x 2"
2000
Untitled #324
Stained wood
21" dia x 5 ½ "
2000
2000's